WASHITA RETRIEVERS
"Devoted to the Breeding and Development of Quality Hunting Retrievers"
Specializing in Retriever Field Training for both the Hunter and Field Test Competitor
---
Labrador Stud Service
Washita Retrievers Current Active Stud Dogs
GRHRCH Washita's One Hot Tamale MH – Yellow (Fox Red in color) – Whelped March 22, 2003
Tommy is an 80 pound fox red male with unmatched talent and drive. In addition, he has a very impressive pedigree with sire GRHRCH WR Washita's Big Jake MH (500 point club) and dam GRHRCH GMHR UH Oz's Yellow Fever of Washita MH (500 point club and one of the few in hunt test history with all three top titles). Wile Tommy is most imprressive in the field running tests, he's equally pleasant in the huntiung blind or in the house playing with my son or just enjoying a nap beside the recliner. He is truly a great all-around hunting retriever. Tommy got his second Grand pass in spring of 2008 to join his parents as Grand Hunting Retriever Champions and then his third in the fall of 2008.
If you are looking for a FOX RED stud dog with an unmatched pedigree, this is your dog! Tommy is OFA Excellent, CERF Clear, PRA Clear, and EIC Clear. His current stud fee is $600. Please contact us for more information regarding Tommy.
Pedigree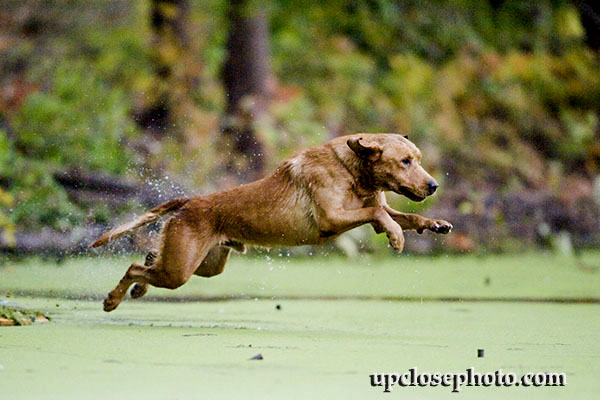 GRHRCH Riverwalk's Gunner Boy MH – Yellow – Whelped February 9, 2000
Gunner sports an excellent pedigree very similar to that of NFC Dewey's Drake of Moonrivers. In fact, ¾ of Gunner's pedigree is IDENTICAL to Drake's! They share the same sire as well as the same grandsire on their dam's side. Get the benefits of this proven lineage AND dual Grand Hunting Retriever Champion and Master Hunter titles WITHOUT paying the fees associated with a National Field Champion! Gunner is OFA Good, CERF Clear, and EIC Clear.
Washita Retrievers offers Labrador Retriever stud service from the highest quality NAHRA, HRC, and AKC titled sires. Each stud dog is certified by the Orthepedic Foundation for Animals to be free from hip displasia, as well as by the Canine Eye Registration Foundation to be free from genetic eye defects. At Washita Retrievers, expect only to pay the stud fee with no additional fees such as "boarding," "breeding," or "transportation" fees.
At Washita Retrievers, your prized female is in good hands in our secure, comfortable facilities. Also, with years of experience in successful in-house artificial insemination, Washita Retrievers can prove successful in breeding even the most contrary females.
Pictured left to right are:
MHR HRCH Riptide Jubilee - Black, not yellow factored – 1996 - 2010. Semen no longer available
GMHR HRCH Keno Creek's KC and S Bullet MH - Yellow – 1996- 2009 - Frozen semen available for approved females. Please contact us if you are interested.
GRHRCH WR Washita's Big Jake MH - Black, Yellow factored - April 20, 1999. Currently not producing. A very limited supply of frozen semen is available.
---
Retriever Field Training Labrador Puppies Labrador Stud Service
Trained Retrievers for Sale Boarding Any Breed Obedience Training Custom Whelping
Home
---
Contact: Jeff Chesnut
Washita Retrievers
189 County Road 1570, Marlow, OK 73055
Phone: (580) 476-2126
Email: chesnut@washita.com